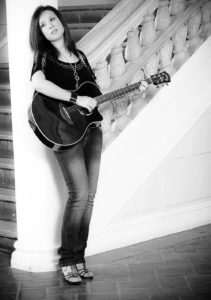 After rocking the 'live music capital of the world,' Austin, Texas, for over a decade, Jenni Dale Lord has returned to her roots in Lubbock to claim her place in the West Texas music scene where she first began her career.  Since her homecoming, Jenni Dale has been welcomed with open arms and has played various establishments.  Her style can mold to any crowd before her and her performance always entertains.
She took her first piano lesson at four years old and wrote her first song at eight.  At 11, Jenni Dale then decided she wanted to learn the guitar, and she did so with never-ending persistence and bloody fingertips.  Throughout her entire life, music has been her love and her passion.  It is the only thing in her life that she has never let go.  It is this dedication and soul-binding commitment to her art that are sure to make her successful wherever she goes.
She has recently become 1/4 of the newly formed Jenni Dale Lord Band including Kevin Long (electric guitar), Andrew Mason (bass guitar), and Tony Garcia (drums). Together they are creating a style of music unlike anything else. The band has numerous major events on the horizon and is touring as much as possible. Keep your eye out for this awesome group, and help bring them to your town.